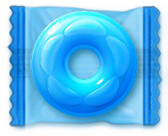 Wrapped candy is one of the special candies in Candy Crush Jelly Saga. It is a regular candy in a similar colored wrapper.
Formations
[
]
A wrapped candy is created when 5 candies of the same color in an L or T. However, if you create a wrapped candy with 6 candies of the same color, one candy will be left on the board. Another case is that you never can create a wrapped candy in a cross from (+). When formed, 200 points are given to the player.
Properties
[
]
When you make a normal match with wrapped candy or combine color bomb with the same color of wrapped candies, it will detonate twice. However, if you combine a wrapped candy with candy fish or a new monkling spawns on the space of it, it only detonates once. Detonating a wrapped candy gives 60 points per candy around it.
Combinations
[
]
| Combination | Effect | Image |
| --- | --- | --- |
| Wrapped Candy + Candy Fish | Chooses a random tile and acts like a wrapped candy. | |
| Wrapped Candy + Striped Candy | Makes a large striped candy taking up a 3×3 square and clear the candies on a cross shape. | |
| Wrapped Candy + Wrapped Candy | Makes a large explosion that clear the candies on a 5×5 square. | |
| Wrapped Candy + Color Bomb | Makes all candies with the selected color to wrapped candies and activate them. | |
| Wrapped Candy + Coloring Candy | Makes all candies with the selected color and coloring candy's color (if both have the same color, then the most abundant candy color on the board will be selected) to wrapped candies and activate them. | |
Gallery
[
]