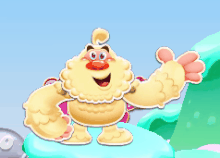 Hello, my name is Michael aka PowerCrusher04 (Abbreviated PC04 or PC) and I'm an editor/Rollbacker/Administrator on this wiki. I like playing Candy Crush Jelly just as much as Candy Crush Saga, although it can get REALLY hard, to the point where I suspect that it's rigged. See you around. You can read my profile for more info.
Game stats
[
]
Level 550 - Cotton Valley (Episode 28)
BRAND NEW FEATURE: XP Rank: 28
Hit level 500 on April 7th, 2018.
Opening Time
[
]
I live in UTC+4 time, and I'm the most active during the hours of 8:30 pm to 11:00 pm, and at any time during the weekends and special occasions (i. e. holidays), though I won't always be available during those specific hours.
You may also have noticed that sometimes there are clusters of days during which I don't make a single edit on the wiki. This is mostly because I'm busy with school. Please excuse me for the inconvenience.
This section will be relevant until approx. June 10th, 2018.
Some Templates For Convenience
[
]
Edit Milestones
[
]
500 edits - August 26, 2017 (56 days, avg. 8.93 edits per day)
1,000 edits - September 8, 2017 (13 days, avg. 38.46 edits per day)
1,500 edits - December 16, 2017 (99 days, avg. 5.05 edits per day)
2,000 edits - 11:55 PM, March 31, 2018 (105 days, avg. 4.76 edits per day)