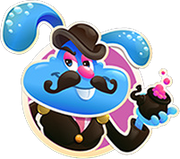 Liquorice Larry is the third antagonist in Candy Crush Jelly Saga. He first appears in level 141, in the intro and all monkling boss levels.
In the 20th episode, Liquorice Lot, he first appears as a clown, who is taking a rest and sitting outside on his comfortable rocking chair as he awaits Jelly Queen.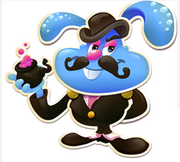 He is an obese light blue rabbit with a black toupee and mustache, pink nose and eyelids, and two buck teeth. He wears a pink bow tie, dark brown leather dress shoes, a dark brown dress coat, a white dress shirt with a pink velvet striped vest, and a golden ring around his finger. In his hand, he holds a smoke pipe with pink candies inside.
He is a faithful servant to the Jelly Queen, who also wishes to rule the candy world, alongside her.
In monkling boss levels, he competes with Jenny by trying to create blue monklings and collect them first before she does to make the player fail.
The home of Liquorice Larry was revealed in Liquorice Lot episode.
His outfit and everything related to him were officially changed after the release of episode 103.
Community content is available under
CC-BY-SA
unless otherwise noted.