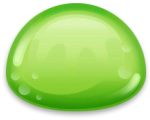 Candy Crush Jelly Saga currently contains 2665 levels (2645 levels on mobile) in 143 episodes (142 episodes on mobile). Every episode has 20 levels for the first 63 episodes and succeeding episodes after episode 102, while episode 64 to 102 have 15 levels.
New levels are being released every week (at a rate of 15 levels per week or 1 episode per week), starting January 24, 2018 (March 14, 2018 for web).
Click on one of the links to see the full list of levels or the page on episodes.
Community content is available under
CC-BY-SA
unless otherwise noted.