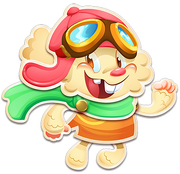 Jenny is the main protagonist in Candy Crush Jelly Saga.
When you complete a level, Jenny appears jolly. However, she will become sad if you fail a level.
She also gives the player some helpful tips if you have trouble with some levels.
Appearances
[
]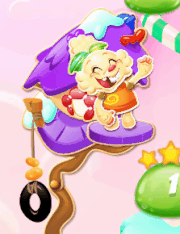 She is a yeti girl (marked as the third main character of the Candy Crush game series, and the first main character who is an animal and a hero (Yeti)). She wears an orange shirt and a green ribbon.
In hard levels and super hard levels, she wears a green robe behind, wears glasses and yellow helmet. She doesn't change the old clothes.
In Cupcake Marathon, she wears orange sport clothes with an orange scarf on her head.
In Fishing with friends, she wears an orange wide-brimmed hat and a green bow at her neck.
In Get the treasure, she wears a hat on her head, a mask on her face and a dress which look like a thief. She also wears a light and a microphone to call her companies, Odus and Misty.
When the player combines color bomb and coloring candy each other, she wears a green scarf, glasses and a red cap.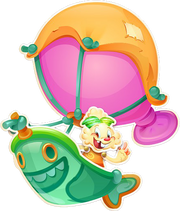 In any adventure, she always flies with her balloon. Her journey is to explore the worlds and rescue Mr. Yeti, her uncle who is trapped by Jelly Queen.
Episodes
[
]
In the first episode, Cotton Candy Clouds, she stands on the Tree Tops and waves welcome the first players.
In the 30th episode, Gingerbread Hills, she stops at the snow mountain. She and her monkey are playing on the snow mountains and prepare fireworks rods.
In the 39th episode, Apple Ring Round, she flies through the apple pie land while her ship got a hole on the balloon.
In the 41st episode, Furios Floss Fields, she is standing along with her ship on land during a big hurricane. The balloon is completely broken, the ship's sad and Jenny is appeasing it.
In the 45th episode, Cookie Crust Cliffs, she has Monkey to wash her ship.
In the 50th episode, she takes a blossom which is given by Elsa.
In the 57th episode, she is arrested by mother wiggling which looks like octopus as she thinks that Jenny is teasing her baby wigglings.
Trivia
[
]
Her jumping scene when the player completes a level was changed after 21 January 2016.
In the 1.3.3 update and later, after completed boss levels (jelly boss levels, puffler boss levels, monkling boss levels) and monkling levels, she will jump out of the control board.
She is the first and only main character is an animal (as she is a yeti).

She also is the first and only character who does not cry in (super) hard levels when the player fails a (boss) level, she only becomes sad in normal levels.

She usually appears in the main menu of the game.

From September 15 2020 to November 9 2021, Red Rabbit replaced her to appear in the main menu.
From December 15 2021 to February 17 2022, Monkey replaced her to appear in the main menu screen.
Gallery
[
]