Jelly cube is one of the blockers in Candy Crush Jelly Saga. It first appears in the 17th episode, Red Velvet Valley, with first being level 321.
Properties
Edit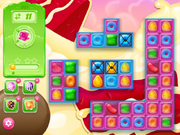 Any candies, blockers or other elements can be underneath jelly cubes. However, unlike liquorice locks, they are not captured, except cupcakes.
The player cannot match candies when all of them is underneath jelly cube unless one or two candies are not under them.

Moreover, the player can not choose candy inside the jelly cube to switch with another one. It means the player is only able to switch candies from outside, not be able to switch from inside.

Jelly cubes only disappear when the player matches candies (one or two candies inside them) or use special candy's effects.

Making combinations or switching color bomb or coloring candy within one or two-layered jelly cube will immediately clear it.

Two-layered jelly cubes have a bold white layer on one-layered jelly cubes. Any special candy's effects or match candies will decrease its one layer.
Color bomb + color bomb combination can take off one layer of all jelly cubes. Color bomb + coloring candy can strip all layers of jelly cubes.
For the list of levels with this blocker, see here.
Notable levels
Edit
This is one of the elements in the game that was not available in both Candy Crush Saga and Candy Crush Soda Saga.
In fact, this blocker only exists blue jelly cube (). However, due to having jelly in this game, this blocker has all three colors: blue, pink and green. If there is pink jelly inside, the jelly cube is pink (), if there is green jelly inside, it is green ().
Jelly cubes cannot be removed when the player matches candies beside them, unlike liquorice swirls.
Monkling cannot be spawned when jelly cubes covered the spawning area.
Liquorice swirls and cupcakes cannot be removed when the player matches candies during them inside jelly cubes.
Special candies after being matched will be activated in jelly cubes immediately.
Candies and liquorice swirls will not be removed and cupcakes will not be decreased one layer if any special candies are activated.
Two-layered jelly cubes were not introduced continuously until they were seen in Mochi Mountain Village episode.
After the release of Ice Cream Archipelago, the player can completely remove jelly cubes by matching candies near them.

With this update, the player can not spread the jelly through jelly cubes. However, after many days, this issue was fixed and the player can not remove them normally anymore.

If there are cupcakes under jelly cubes, color bomb + coloring candy can strip all layers of jelly cubes, but cupcakes are only decreased to one layer (In the game, the player will see all multi-layered cupcakes but when removed, they disappear).
Shuffling won't displace any candies inside jelly cubes, like Cotton Cloud.
Any special candies' effects won't remove candies and blockers inside unless jelly cubes were fully removed.
Community content is available under
CC-BY-SA
unless otherwise noted.