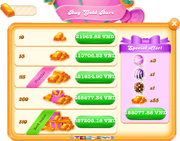 Gold (also known as Gold Bars) is the currency in Candy Crush Jelly Saga. It can be bought in the Candy Crush Jelly Bank for a minimum of 1 US dollar (or the equivalent in another currency), which will get you 10 gold bars. It was introduced as the new currency released in August 28 2015. Gold can be used to buy boosters, lives, tickets, moves and to unlock episodes.
List of elements that use Gold Bars
[
]
Trivia
[
]
The player receives 50 gold bars when first to play.
Unfortunately, there is no other possible way to obtain gold bars other than the first 50, Facebook, or via in-app purchase, or through hacking. However, now there are some ways to earn gold bars for free without hacking:

The first way is to synchronize the progress when downloading/starting the game first time on another platform (PC or mobile), which gives another 50.
The second way is playing Royal Championship. You will have a chance to get at most 45 gold bars in 1 week when joining this event.
The third way is joining the event Get the treasure. The amount of gold bars is random when you join in with the team.
The fourth way is joining Race it. You will race with four other competitors to reach the last level of an episode. The maximum amount of gold bars is 5 when you are the first one to reach the finish line.

On March 23, 2017, King gave to the players one more way to earn gold. If you always update your app, you will grab yourself 10 free Gold Bars (This is only applied for mobile devices). However, after a few months, this features was removed.
Gallery
[
]