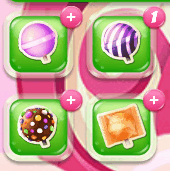 A booster (sometimes known as a Power-up) is an item in Candy Crush Jelly Saga that can be used to simplify gameplay. They do this in various forms. Some boosters are activated via the screen before the game starts, while others can be activated during gameplay.
Properties
[
]
There are various boosters in the game and all of them have different properties. Boosters come with a certain number of uses. Once you use the booster, one use is consumed.
List of boosters
[
]
Boosters here almost very little compared with Candy Crush Saga but more compared with Candy Crush Soda Saga. These include:
Watch Ad
[
]
This feature is first released on April 29 2020, you can get a free booster before playing by watching ad video, with a maximum of 5 times.
You will be given one of 3 boosters: Color Bomb, Coloring Candy or Double Delish Fish.
If you notice, boosters always pop up continuously. See carefully before clicking the button. Note that if there is an unlimited booster, the remaining ones will be chosen randomly.
On September 30 2021, you can get 1 free striped candy along with free moves when you have run out of moves. On October 13 2021, a free striped candy was removed.
Trivia
[
]
All of the boosters in the "Select boosters" section can't be synchronized with other devices, except unlimited ones.
The first three boosters were introduced on the same day as the release date of the game. But counting soft launch version releases they were not released at the same time.
When this game was soft launched last August 28, 2015 boosters did not exist.
There was an update that wrote in the play store that a Wrapped Lollipop Hammer booster was added to the game but really it did not add that booster.
The Color Bomb Hammer and Wrapped Lollipop Hammer is not available in Candy Crush Saga and Candy Crush Soda Saga, it is a new booster in the series of Candy Crush.
Also, all boosters in Candy Crush Jelly Saga excluding Extra Moves are all lollipop hammers, unlike in Candy Crush Saga and Candy Crush Soda Saga.
Colorbomb, Coloring Candy and Double Delish are added as boosters on September 1, 2016, just like Candy Crush Soda Saga.
After completing using boosters at the start, they will be deactivated.
When you activate any boosters at the level select screen, if you suddenly quit the level, you will immediately lose that booster.

However, if you activate boosters but nothing happens, they can be kept again, especially that the game is suddenly frozen.

Colorbomb and Coloring Candy booster (unless Double delish fish), after being activated will be disabled immediately if the whole board has special candies and purple jelly candies.
Using unlimited boosters with limited time at the start won't cost any of them. After running out of time, they will go back to the original number you have.
When you open the game on mobile device and play a level without Internet connection, in-game booster instruction will appear, such as Striped Lollipop Hammer, Color Bomb Lollipop Hammer and Wrapped Lollipop Hammer (except Lollipop Hammer).
You can use in-game boosters while complete level screen still appears. After that screen ends, Sugar Crush won't be activated yet. Instead, the game will continue the effect of in-game boosters you have chosen. However, it only happens in normal levels.
Each lollipop hammer had its own special effect when smashing a candy on May 18, 2021. After July 7 2021, the color background of each lolipop was removed.
Gallery
[
]